v1418-739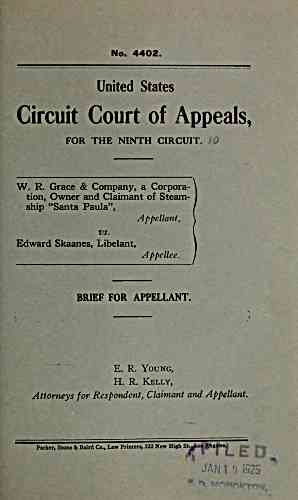 No. 4402.
United States
Circuit Court of Appeals,
FOR THE NINTH CIRCUIT. J
Grace & Company, a Corpora-
tion, Owner and Claimant of Steam-
ship "Santa Paula",
Appellant,
vs.
Edward Skaanes, Libelant,
Appellee,
BRIEF FOR APPELLANT.
Young,

Kelly,
Attorneys for Respondent, Claimant and Appellant,
Parker, Stone & Baird Co., Law Printers, 232 New High Stjot Angeles.
J AIM 1 ) i925
^^^-k,
---
archive.org Volume Name: govuscourtsca9briefs1418
Volume: http://archive.org/stream/govuscourtsca9briefs1418
Document Link: http://archive.org/stream/govuscourtsca9briefs1418#page/n738/mode/1up
Top Keywords (auto-generated):
apostles, wire, topping, lift, tackle, skaanes, defective, respondent, rigged, gear, accident, percival, 1923, solie, witnesses
Top Key Phrases (auto-generated):
topping lift, lift wire, wire broke, respondent vessel, 1923 apostles, strain placed, santa paula, san pedro, march 1923, percival apostles, fold purchase, unnecessary strain, steve dores, purchase blocks, libel ant
Document Status: UGLY