v1469-907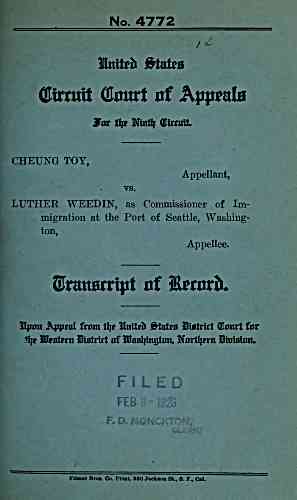 No. 4772
Qltwmt Olflttrt of App?al0
Vov % Kmtli (Ztrntlt
CHEUNG TOY,
Appellant,
vs.
LUTHER WEEDIN, as Commissioner of Im-
migration at the Port of Seattle, Washing-
ton,
Appellee.
Etumnvt nf Ewori.
Ip0 Appeal from tiB Ittttb BtuUB ItBtrtrt Qlnurt for
.tlj MrBtrrtt itatrtrt of Waaliingtott, Nnrtlipm iiirtBtott.
Fl Ltu
FEB
b'ilmer Bros. Co. Print, 330 J'ickson St., S. F., Cal.
---
archive.org Volume Name: govuscourtsca9briefs1469
Volume: http://archive.org/stream/govuscourtsca9briefs1469
Document Link: http://archive.org/stream/govuscourtsca9briefs1469#page/n906/mode/1up
Top Keywords (auto-generated):
district, petitioner, washington, cheung, 1926, toy, seattle, luther, weedin, frost, john, sullivan, western, habeas, endorsed
Top Key Phrases (auto-generated):
cheung toy, luther weedin, western district, seattle washington, habeas corpus, luther weedin., weedin commissioner, jeremiah neterer, special inquiry, january 1926., habeas corpus., washington northern, seattle washington., graham asst., building seattle
Document Status: UGLY