v1476-103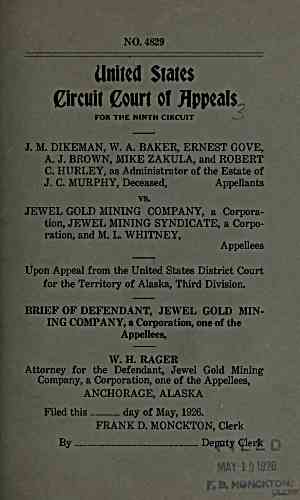 NO. 4829
Unitea States
Circuit Court of Jlppeals^
FOR THE NINTH CIRCUIT
DIKEMAN, W. A. BAKER, ERNEST GOVE,

BROWN, MIKE ZAKULA, and ROBERT

HURLEY, as Administrator of the Estate of

MURPHY, Deceased, Appellants
vs.
JEWEL GOLD MINING COMPANY, a Corpora-
tion, JEWEL MINING SYNDICATE, a Corpo-
ration, and M. L. WHITNEY,
Appellees
Upon Appeal from the United States District Court
for the Territory of Alaska, Third Division.
BRIEF OF DEFENDANT, JEWEL GOLD MIN-
ING COMPANY, a Corporation, one of the
Appellees,
RAGER
Attorney for the Defendant, Jewel Gold Mining
Company, a Corporation, one of the Appellees,
ANCHORAGE, ALASKA
Filed this day of May, 1926.
FRANK D, MONCKTON, Clerk
By Deqat^ (^rk
M9NC
---
archive.org Volume Name: govuscourtsca9briefs1476
Volume: http://archive.org/stream/govuscourtsca9briefs1476
Document Link: http://archive.org/stream/govuscourtsca9briefs1476#page/n102/mode/1up
Top Keywords (auto-generated):
jewel, mining, property, gold, execution, 1923, syndicate, liens, transcript, pac, june, alaska, premises, petition, ore
Top Key Phrases (auto-generated):
jewel gold, gold mining, jewel mining, mining syndicate, jewel mine, section 1115, mining property, lien claimants, lessee jewel, gold min, compiled laws, alias execution, murphy deceased, mining syndicate., mike zakula
Document Status: UGLY