v1504-345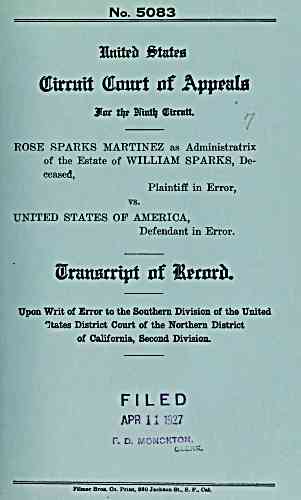 No. 5083
CUtrnnt (Humt of Kpptvila
Jar % NuiJlj (Etrnrtt ^
7
ROSE SPARKS MARTINEZ as Administratrix
of the Estate of WILLIAM SPARKS, De-
ceased,
Plaintiff in Error,
vs.
UNITED STATES OF AMERICA,
Defendant in Error.
rattarrtpt nf UwnrJL
Upon Writ of Error to the Southern Division of the United
'jtates District Court of the Northern District
of California, Second Division.
FILED
APR 1 1 1927
r. D. MGNCKTON. _
Filmer Bros. Oo. Print. 880 Jackson St., S. F., Csl.
---
archive.org Volume Name: govuscourtsca9briefs1504
Volume: http://archive.org/stream/govuscourtsca9briefs1504
Document Link: http://archive.org/stream/govuscourtsca9briefs1504#page/n344/mode/1up
Top Keywords (auto-generated):
sea, bering, seal, sparks, sealing, district, vessel, seals, rose, martinez, voyage, san, hunting, fur, california
Top Key Phrases (auto-generated):
bering sea, rose sparks, sparks martinez, san francisco, bering sea., fur seal, northern district, william sparks, sealing voyage, bose sparks, seal herd, pacific ocean, fur seals, evi dence, port townsend
Document Status: UGLY