v1504-549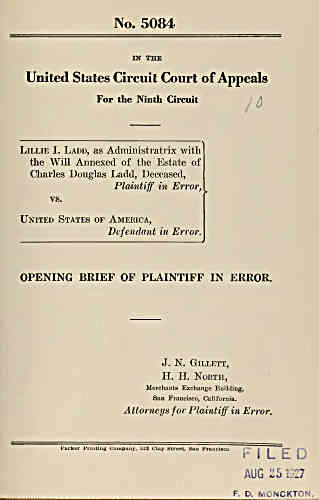 No. 5084
IN THE
United States Circuit Court of Appeals
For the Ninth Circuit j A
LiLLiE I. Ladd, as Administratrix with
the Will Annexed of the Estate of
Charles Douglas Ladd, Deceased,
Plaintiff in Error,
vs.
United States of America,
Defendant in Error.
OPENING BRIEF OF PLAINTIFF IN ERROR.
J. N. GiLLETT,
H. H. North,
Merchants Exchange Building,
San Francisco, California.
Attorneys for Plaintiff in Error.
Parker Printing Company, 523 Clay Street, San Francisco
.-" I L E D
AUG Zb I;-:?
F. D. MONCKTON,
---
archive.org Volume Name: govuscourtsca9briefs1504
Volume: http://archive.org/stream/govuscourtsca9briefs1504
Document Link: http://archive.org/stream/govuscourtsca9briefs1504#page/n548/mode/1up
Top Keywords (auto-generated):
sea, bering, lilly, seal, voyage, sealing, hunting, vessels, transcript, 1893, cleared, season, san, francisco, proclamation
Top Key Phrases (auto-generated):
bering sea, bering sea., san francisco, fur seal, sealing voyage, tran script, stern boat, sealing season, regular hunting, june 7th, hunting boats, enter bering, 7th 1924, sealing vessels, seal hunting
Document Status: UGLY