v1531-894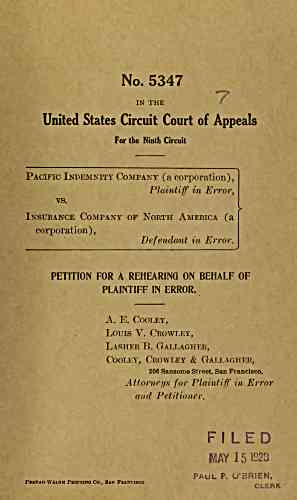 No. 5347
IN THE f
United States Circuit Court of Appeals
For the Ninth Circuit
Pacific Indemnity Company (a corporation),
Plaintiff in Error,
vs.
Insueance Company of North America (a
corporation),
Defendant in Error.
PETITION FOR A REHEARING ON BEHALF OF
PLAINTIFF IN ERROR.
A. E. COOLEY,
Louis V. Crowley,
Lasher B. Gallagher,
CooLEY, Crowley & Oallagher,
206 Sansome Street, San Francisco,
Attorneys for Plaintiff in Error
and Petitioner.
FILED
MAY 1 5 'IS23
PAUL P. O'BRIEN,
Pebnau-Walsh Pbuttino Co., San FBANOiaoo ^, c-atr
---
archive.org Volume Name: govuscourtsca9briefs1531
Volume: http://archive.org/stream/govuscourtsca9briefs1531
Document Link: http://archive.org/stream/govuscourtsca9briefs1531#page/n893/mode/1up
Top Keywords (auto-generated):
arbitration, contract, section, provisions, cal, construction, california, right, relief, code, matters, declaratory, repeal, existing, power
Top Key Phrases (auto-generated):
declaratory relief, italics ours., police power, san francisco, section 1284, pre existing, keokee coke, contracts pertaining, civil procedure, utmost sincerity, statutory construction, special provisions, section 107, right accrued, police power.,
Document Status: UGLY