v1535-423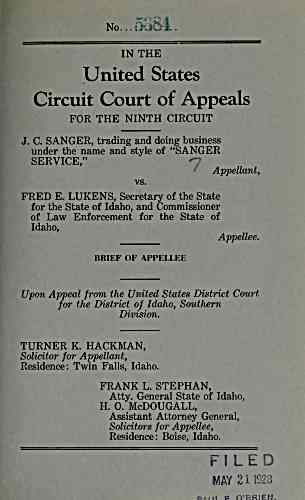 No..
5384
IN THE
United States
Circuit Court of Appeals
FOR THE NINTH CIRCUIT
SANGER, trading and doing business
under the name and style of "SANGER
SERVICE," 1
Appellant,
vs.
FRED E. LUKENS, Secretary of the State
for the State of Idaho, and Commissioner
of Law Enforcement for the State of
Idaho,
Appellee.
BRIEF OF APPELLEE
Upon Appeal from the United States District Court
for the District of Idaho, Southern
Division.
TURNER K. HACKMAN,
Solicitor for Appellant,
Residence: Twin Falls, Idaho.
FRANK L. STEPHAN,
Atty. General State of Idaho,
McDOUGALL,
Assistant Attorney General,
Solicitors for Appellee,
Residence: Boise, Idaho.
FILED
MAY 2 1 IS
daiii P O'BRIEN.
---
archive.org Volume Name: govuscourtsca9briefs1535
Volume: http://archive.org/stream/govuscourtsca9briefs1535
Document Link: http://archive.org/stream/govuscourtsca9briefs1535#page/n422/mode/1up
Top Keywords (auto-generated):
idaho, public, carrier, transportation, common, auto, private, business, highways, property, section, carriers, motor, ed, pac
Top Key Phrases (auto-generated):
auto transportation, private carrier, common carrier, common carriers, session laws, idaho session, public highways, interstate commerce, motor vehicle, motor propelled, chapter 197, transportation companies, private carriers, italics ours., injury suffered
Document Status: UGLY