v1543-361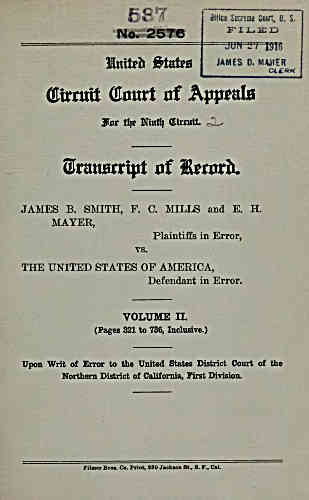 oS ff I aitice SasrEBij Court, U. S.
Oltrmtt Olourt nf Apjiala
WvmBtnpt of Eworli*
JAMES B. SMITH, F. C. MILLS and E. H.
MAYER,
Plaintiffs in Error,
TS.
THE UNITED STATES OF AMERICA,
Defendant in Error.
VOLUME II.
(Pages 321 to 736, Inclusive.)
Upon Writ of Error to the United States District Court of the
Northern District of California, First Division.
Filmer Bros. Co. Print, 330 Jackson St., S. F., Oal.
---
archive.org Volume Name: govuscourtsca9briefs1543
Volume: http://archive.org/stream/govuscourtsca9briefs1543
Document Link: http://archive.org/stream/govuscourtsca9briefs1543#page/n360/mode/1up
Top Keywords (auto-generated):
tons, coal, lbs, barge, tidwell, weight, fuel, discharged, roche, pounds, bunkers, western, smith, james, barges
Top Key Phrases (auto-generated):
western fuel, custom house, stanley moore., pacific mail, offshore bunkers, mail steamship, barge ruth, invoice weight, san francisco, offshore bunker, coal discharged, mills books, turn weight, folsom street, steamship thor
Document Status: UGLY