v1549-857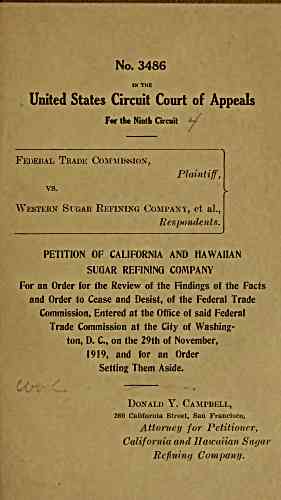 No. 3486
IN THE
United States Circuit Court of Appeals
For the Ninth Circuit ^
Federal Trade Commission,
Plaintiff,
vs.
Western Sugar Refining Company, et al.,
Respondents.
PETITION OF CALIFORNIA AND HAWAIIAN
SUGAR REFINING COMPANY
For an Order for the Review of the Findings of the Facts
and Order to Cease and Desist, of the Federal Trade
Commission, Entered at the Office of said Federal
Trade Commission at the City of Washing=
ton, D. C, on the 29th of November,
1919, and for an Order
Setting Them Aside.
Donald Y. Campbell,
260 California Street, San Francisco,
Attorney for Petitioner,
California and Haivaiiaii Sugar
Reftning Company.
---
archive.org Volume Name: govuscourtsca9briefs1549
Volume: http://archive.org/stream/govuscourtsca9briefs1549
Document Link: http://archive.org/stream/govuscourtsca9briefs1549#page/n856/mode/1up
Top Keywords (auto-generated):
grocery, los, angeles, respondent, california, sugar, business, trade, commerce, wholesale, paragraph, commission, respondents, interstate, engaged
Top Key Phrases (auto-generated):
los angeles, angeles grocery, federal trade, interstate commerce, trade commission, sugar refining, respondent jobbers, wholesale grocery, hawaiian sugar, others engaged, western sugar, sugar refinery, respondent brokers, stetson barret, similar business.,
Document Status: UGLY