v1551-785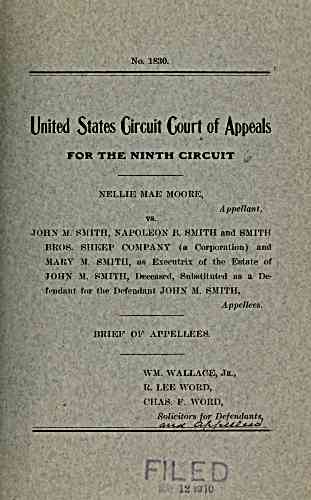 No. 1830.
United States Circuit Court of Appeals
FOR THE NINTH CIRCUIT
NELLIE MAE MOOEE,
Appellant,
vs.
JOHN M. SMITH, NAPOLEON F. SMITH and SMITH
BROS. SHEEP COMPANY (a Corporation) and
MAKY M. SMITH, as Executrix of the Estate of
JOHN M. SIITH, Deceased, Substituted as a Dtv
fendant for tlie Defendant JOHN M. SMITH,
Appellees.
BRIEF OF APPELLEES.
WM. WALLACE, Jr.,
LEE WORD,
CHAS. F. WORD,
Solicitors for Defendants.
11310
---
archive.org Volume Name: govuscourtsca9briefs1551
Volume: http://archive.org/stream/govuscourtsca9briefs1551
Document Link: http://archive.org/stream/govuscourtsca9briefs1551#page/n784/mode/1up
Top Keywords (auto-generated):
stock, property, estate, executor, trust, money, guardian, smith, children, 1898, john, 1899, bank, interest, january
Top Key Phrases (auto-generated):
union bank, estate stock, prop erty, uncle john, pro rata, defend ant, appointed guardian, january 27, fiduciary relation, purchase money, 32 pa., trust funds, titled lands, december 31, cestui que
Document Status: UGLY