v1561-521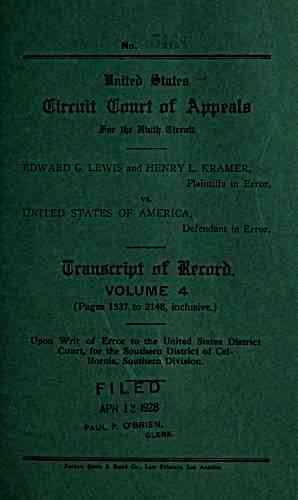 No.
(Elrrutt (Enurt 0f Appala
Ifot tl}f 5?lntlj Cmrnrit.
liDWARD G. LEWIS and HENRY L. KRAMER,
Plaintiffs in Error,
vs.
UNITED STATES OF AMERICA,
Defendant in Error.
VOLUME 4
(Pages 1537 to 2148, inclusive.)
Upon Writ of Error to the United States District
Court, for the Southern District of Cal-
ifornia, Southern Division.
FlCETT
APri i Z 1928
PAUL P. O'BRIEN,
CLERK
Pirktr, Stone k Balrd Co., Law Printer*, Lo Anele.
---
archive.org Volume Name: govuscourtsca9briefs1561
Volume: http://archive.org/stream/govuscourtsca9briefs1561
Document Link: http://archive.org/stream/govuscourtsca9briefs1561#page/n520/mode/1up
Top Keywords (auto-generated):
lewis, review, simpson, edward, kramer, oil, orr, 1923, cullen, henry, money, wells, right, honor, trust
Top Key Phrases (auto-generated):
illustrated review, palos verdes, signal hill, los angeles, mining bureau, william ahrens, huntington beach, national publishing, title insurance, subscription money, oil wells, lewis foundation, pro rata, mile deep, transport wells
Document Status: UGLY