v1567-351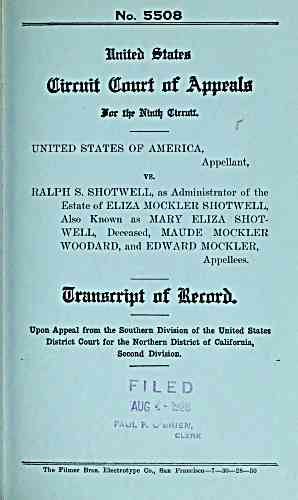 No. 5508
ffitrrttit (Hmvt nf Appata
JToir tift KwHf CHirnttt.
r
UNITED STATES OP AMERICA,
Appellant,
vs.
RALPH S. SHOTWELL, as Administrator of the
Estate of ELIZA MOCKLER SHOTWELL,
Also Known as MARY ELIZA SHOT-
WELL, Deceased, MAUDE MOCKLER
WOODARD, and EDWARD MOCKLER,
Appellees.
StrattBtrtpt of ltmxi.
Upon Appeal from the Southern Division of the United States
District Court for the Northern District of California,
Second Division.
?
AUG '.
PAUL p. o oRSEN,
CLERK
The Filmer Bros. Electrotype Co., San Francisco 730 28 50
---
archive.org Volume Name: govuscourtsca9briefs1567
Volume: http://archive.org/stream/govuscourtsca9briefs1567
Document Link: http://archive.org/stream/govuscourtsca9briefs1567#page/n350/mode/1up
Top Keywords (auto-generated):
sea, bering, seal, boat, seals, hunting, shotwell, vessel, sealing, mockler, ralph, district, san, islands, vessels
Top Key Phrases (auto-generated):
bering sea, san francisco, bering sea., stern boat, fur seal, northern district, eliza mockler, schooner mattie, mockler shotwell, maude mockler, seal hunting, regular hunting, hunting boats, mockler woodard, stern boat.,
Document Status: UGLY