v1594-731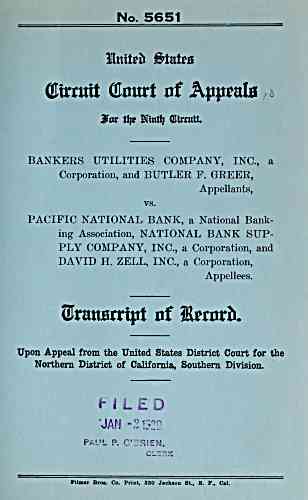 No. 5651
HmUb States
(Etrnrit (ttourt of Appeal*
Wat tip KvxOf irruit.
BANKERS UTILITIES COMPANY, INC., a
Corporation, and BUTLER F. GREER,
Appellants,
vs.
PACIFIC NATIONAL BANK, a National Bank-
ing Association, NATIONAL BANK SUP-
PLY COMPANY, INC., a Corporation, and
DAVID H. ZELL, INC., a Corporation,
Appellees.
SrattBortpt of JUrorfr
Upon Appeal from the United States District Court for the
Northern District of California, Southern Division.
t l L
'JAN -21529
PAUL P. O'SRIEN,
Filmer Bros. Co. Print, 330 Jackson St., S. F., Cl.
---
archive.org Volume Name: govuscourtsca9briefs1594
Volume: http://archive.org/stream/govuscourtsca9briefs1594
Document Link: http://archive.org/stream/govuscourtsca9briefs1594#page/n730/mode/1up
Top Keywords (auto-generated):
end, coin, bank, holding, inc, sections, element, national, receiving, spring, open, patent, greer, bankers, closing
Top Key Phrases (auto-generated):
coin receiving, national bank, bankers utilities, receiving element, open end, pacific national, holding engagement, open edge, end portions, bank supply, 460 716, holding member, closing frame, engaging lugs, coin repository
Document Status: UGLY