v1645-759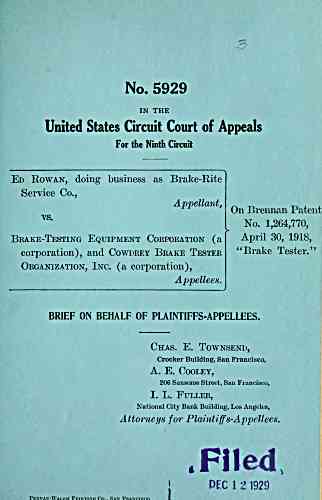 o
No. 5929
IN THE
United States Circuit Court of Appeals
For the Ninth Circuit
Ed Rowan - , doing business as Brake-Rite
Service Co.,
Appellant,
vs.
Brake-Testing Equipment Corporation (a
corporation), and Cowdrey Brake Tester
Organization, Inc. (a corporation),
Appellees.
On Brennan Patent
No. 1,264,770,
April 30, 1918,
" Brake Tester."
BRIEF ON BEHALF OF PLAINTIFFS=APPELLEES.
Chas. E. Townsend,
Crocker Building, San Francisco,
A. E. Cooley,
206 Sansome Street, San Francisco,
I. L. Fuller,
National City Bank Building, Los Angeles,
Attorneys for Plaintiffs- Appellees.
Teknau-Walsh Printing Co.. San FnANmson
.Filed
j PEC 1 2 1929
---
archive.org Volume Name: govuscourtsca9briefs1645
Volume: http://archive.org/stream/govuscourtsca9briefs1645
Document Link: http://archive.org/stream/govuscourtsca9briefs1645#page/n758/mode/1up
Top Keywords (auto-generated):
patent, brake, brennan, wheel, car, machine, invention, brakes, test, device, seppmann, jumbo, road, testing, tester
Top Key Phrases (auto-generated):
brennan patent, brake tester, brake testing, brake resistance, patent office, corrugated roller, road test, brake retardation, jumbo machine, testing machine, brennan invention, rubber tire, price hollister, brake shoe, bren nan
Document Status: UGLY