v1669-739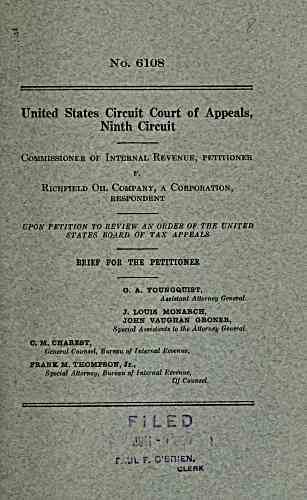 No. 6108
United States Circuit Court of Appeals,
Ninth Circuit
COMMISSIONER OF INTERNAL REVENUE, PETITIONER
Richfield Oil Company, a Corporation,
respondent
UPON PETITION TO REVIEW AN ORDER OF THE UNITED
STATES BOARD OF TAX APPEALS
BRIEF FOR THE PETITIONER
YOUNGQUIST,
Assistant Attorney General.
LOUIS MONARCH,
JOHN VATTGHAN GRONER,
Special Assistants to the Attorney General.
CHAREST,
General Counsel, Bureau of Internal Revenue,
FRANK M. THOMPSON, Jr.,
Special Attorney, Bureau of Internal Revenue,
Of Counsel.
5
l p. c err. en,
CLEBK
---
archive.org Volume Name: govuscourtsca9briefs1669
Volume: http://archive.org/stream/govuscourtsca9briefs1669
Document Link: http://archive.org/stream/govuscourtsca9briefs1669#page/n738/mode/1up
Top Keywords (auto-generated):
stock, commissioner, revenue, 2d, ownership, olinda, affiliated, control, corporations, tax, section, owned, gasoline, substantially, 1918
Top Key Phrases (auto-generated):
olinda gasoline, richfield oil, internal revenue, section 240, stock ownership, stock owned, prentice hall, adolph hirsch, decided april, closely affiliated, article 633, affiliated interests, affiliated corporations, treasury regulations, sub stantially
Document Status: UGLY