v1708-307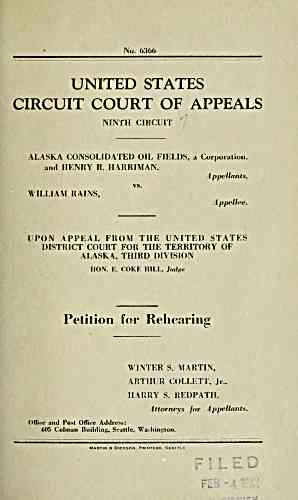 No. 6;J66
UNITED STATES
CIRCUIT COURT OF APPEALS
NINTH CIRCUIT '
ALASKA CONSOLIDATED OIL FIELDS, a Corporation,
and HENRY R. HARRIMAN,
Apppllaats,
vs.
WILLIAM RAINS,
Appellee.
UPON APPEAL FROM THE UNITED STATES
DISTRICT COURT FOR THE TERRITORY OF
ALASKA, THIRD DIVISION
HON. E. COKE HILL, Udge
Petition for Rehearing
WINTER S. MARTIN,
ARTHUR COLLETl, Jr..
HARRY S. REDPATH.
Attorneys for Appellants.
OflTuo and Post Oflioe Address:
605 Colinan Building, Si?atlle, Washington.
MARTIN Bt Dickson, printers. Seattle
T.1
---
archive.org Volume Name: govuscourtsca9briefs1708
Volume: http://archive.org/stream/govuscourtsca9briefs1708
Document Link: http://archive.org/stream/govuscourtsca9briefs1708#page/n306/mode/1up
Top Keywords (auto-generated):
oil, locator, laws, estate, rights, land, mining, alaska, possessory, lien, leasing, work, right, public, petitioners
Top Key Phrases (auto-generated):
possessory estate, oil land, land leasing, mining locator, mining laws, permit tee, mere license, land office, broad enough, posses sory, placer location, oil wells, oil leasing, oil fields, martin arthur
Document Status: UGLY