v1724-193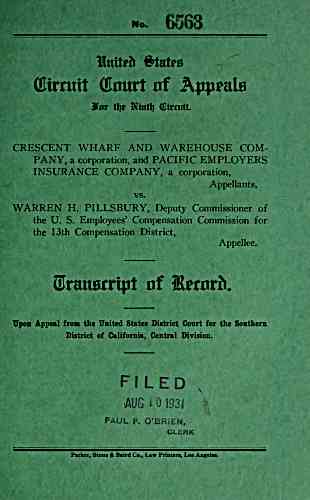 No. 6563
(Hxvcmt ourl of Apppala
3fnr t}t iNmtlt (Eirruit.
CRESCENT WHARF AND WAREHOUSE COM-
PANY, a corporation, and PACIFIC EMPLOYERS
INSURANCE COMPANY, a corporation,
Appellants,
vs.
WARREN H. PILLSBURY, Deputy Commissioner of
the U. S. Employees' Compensation Commission for
the 13th Compensation District,
Appellee.
Wtrntampt af U? rnrft.
Upon Appeal from the United States District Court for the Southern
District of California, Central Division.
FILED
AUG i 1931
PAUL P. O'BRIEN,
CLERK
Parker, Stone ft Baird Co., Law Printcrt, Loi Angeles.
---
archive.org Volume Name: govuscourtsca9briefs1724
Volume: http://archive.org/stream/govuscourtsca9briefs1724
Document Link: http://archive.org/stream/govuscourtsca9briefs1724#page/n192/mode/1up
Top Keywords (auto-generated):
district, compensation, warren, crescent, complainants, corporation, deputy, california, wharf, warehouse, pillsbury, commissioner, pacific, 1930, amelia
Top Key Phrases (auto-generated):
crescent wharf, deputy commissioner, southern district, pacific employers, employers insurance, california central, compensation commission, employees compensation, pillsbury deputy, los angeles, britton mcconnell, corporation complainants, pensation district, 13th compensation, pacific indemnity
Document Status: UGLY