v1745-5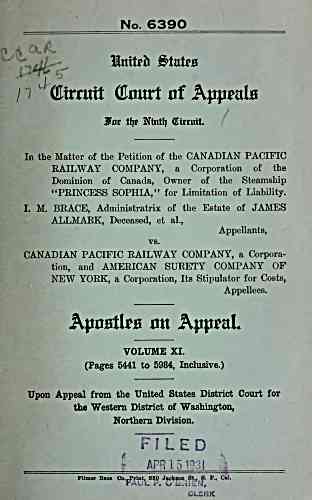 No. 6390
I ) "^ Oltrrmt (Honvt of Apfpala
iF0r % Nttttli CUtrrmL
In the Matter of the Petition of the CANADIAN PACIFIC
RAILWAY COMPANY, a Corporation of the
Dominion of Canada, Owner of the Steamship
'TRINCESS SOPHIA," for Limitation of Liability.
L M. BRACE, Administratrix of the Estate of JAMES
ALLMARK, Deceased, et al.,
Appellants,
vs.
CANADIAN PACIFIC RAILWAY COMPANY, a Corpora-
tion, and AMERICAN SURETY COMPANY OF
NEW YORK, a Corporation, Its Stipulator for Costs,
Appellees.
VOLUME XI.
(Pages 5441 to 5984, Inclusive.)
Upon Appeal from the United States District Court for
the Western District of Washington,
Northern Division.
FILED
APRi51?3
Filmer Bros Go
.jPrint, 830 Jap%:BpnSty,S. P., Gal.
CLERK
---
archive.org Volume Name: govuscourtsca9briefs1745
Volume: http://archive.org/stream/govuscourtsca9briefs1745
Document Link: http://archive.org/stream/govuscourtsca9briefs1745#page/n4/mode/1up
Top Keywords (auto-generated):
bogle, working, estate, business, money, canadian, pacific, brace, work, health, acquainted, martin, married, death, worked
Top Key Phrases (auto-generated):
canadian pacific, pacific ry., white horse, white pass, princess sophia, river boats, dol lars, strong healthy, october 1918, busi ness, testi fied, mary shaller., steamship princess, hun dred, bertram john
Document Status: UGLY