v1748x-231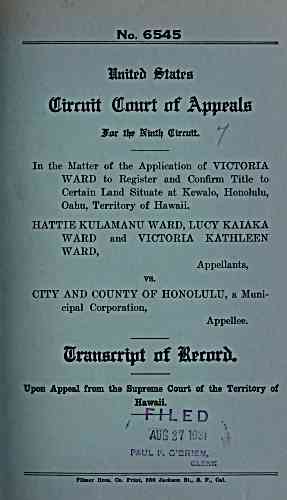 No. 6545
(tttrnttt (Emtrf nf Apjmtte
3far tip Nttttlj (tirratt.
In the Matter of the Application of VICTORIA
WARD to Register and Confirm Title to
Certain Land Situate at Kewalo, Honolulu,
Oahu, Territory of Hawaii,
HATTIE KULAMANU WARD, LUCY KAIAKA
WARD and VICTORIA KATHLEEN
WARD,
Appellants,
vs.
CITY AND COUNTY OF HONOLULU, a Muni-
cipal Corporation,
Appellee.
Upon Appeal from the Supreme Court of the Territory of
Hawaii.
/-F-HLED
Filmer Bros. Oo. Print, 330 Jackson St., S. F Oal.
---
archive.org Volume Name: govuscourtsca9briefs1748x
Volume: http://archive.org/stream/govuscourtsca9briefs1748x
Document Link: http://archive.org/stream/govuscourtsca9briefs1748x#page/n230/mode/1up
Top Keywords (auto-generated):
ward, county, city, honolulu, victoria, land, hattie, 1931, kulamanu, hawaii, title, territory, petition, lucy, respondents
Top Key Phrases (auto-generated):
kulamanu ward, hattie kulamanu, victoria kathleen, victoria ward, ward lucy, kathleen ward, lucy kaiaka, kaiaka ward, deputy city, scott deputy, lucy kaika, kaika ward, transfer certificate, ward respondents, seal sgd.,
Document Status: UGLY