v1749-429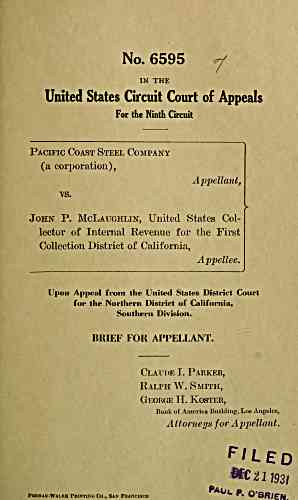 No. 6595
i
IN THE
United States Circuit Court of Appeals
For the Ninth Circuit
Pacific CoAkSt Steel Company
(a corporation),
Appellant,
vs.
John P. McLaughlin, United States Col-
lector of Internal Revenue for tlie First
Collection District of California,
Appellee.
Upon Appeal from the United States District Court
for the Northern District of California,
Southern Division.
BRIEF FOR APPELLANT.
Claude I. Parker,
Ralph W. Smith,
George H. Koster,
Baiils: of America Building, Los Angeles,
Attofiieys for Appellant.
Pbrnau-Walsh Feinting Co., San Feancisco
^ 1 1 1931
---
archive.org Volume Name: govuscourtsca9briefs1749
Volume: http://archive.org/stream/govuscourtsca9briefs1749
Document Link: http://archive.org/stream/govuscourtsca9briefs1749#page/n428/mode/1up
Top Keywords (auto-generated):
tax, revenue, collection, waiver, section, 1924, assessment, period, 278, commissioner, 1926, december, taxes, 1917, profits
Top Key Phrases (auto-generated):
section 278, excess profits, section 250, war profits, december 31, taxes imposed, tax assessed, internal revenue, 1917 tax, profits taxes, profits tax, august 27, 27 1928, reve nue, income excess
Document Status: UGLY