v1752-1229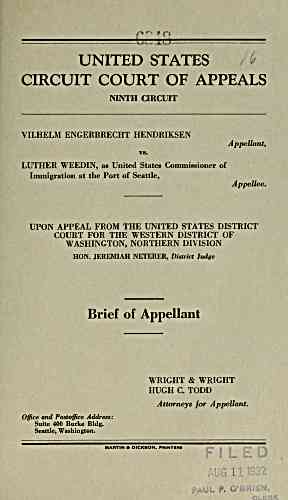 UNITED STATES
CIRCUIT COURT OF APPEALS
NINTH CIRCUIT
VILHELM ENGERBRECHT HENDRIKSEN
Appellant,
vs.
LUTHER WEEDIN, as United States Commissioner of
Immigration at the Port of Seattle,
Appellee.
UPON APPEAL FROM THE UNITED STATES DISTRICT
COURT FOR THE WESTERN DISTRICT OF
WASHINGTON, NORTHERN DIVISION
HON. JEREMIAH NETERER, District Judge
Brief of Appellant
WRIGHT & WRIGHT
HUGH C. TODD
Attorneys for Appellant.
Office and Postoffice Address
Suite 400 Burke Bldg.
Seattle, Washington.
MARTIN a DICKSON. PRINTER*
1 1
PAUL P. C
---
archive.org Volume Name: govuscourtsca9briefs1752
Volume: http://archive.org/stream/govuscourtsca9briefs1752
Document Link: http://archive.org/stream/govuscourtsca9briefs1752#page/n1228/mode/1up
Top Keywords (auto-generated):
immigration, alien, section, petitioner, port, 1924, crew, seaman, american, supra, foreign, 1917, word, ship, provisions
Top Key Phrases (auto-generated):
dell wood, alien seaman, american vessel, foreign port, round trip, italics ours., cable ship, war department, ship dell, march 1922, home port, american registry, american port, alien seamen, 1924 supra
Document Status: UGLY