v1752-419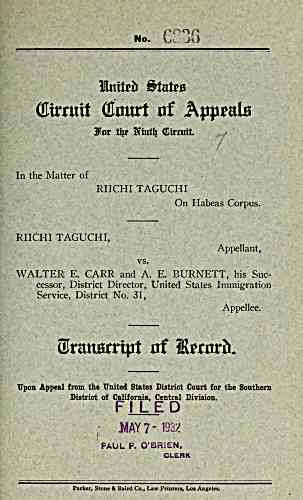 Oltmrit (Emtri ttf Appeals
Star tip Kinttf (Strrutt
In the Matter of
RIICHI TAGUCHI
On Habeas Corpus.
RIICHI TAGUCHI,
Appellant,
vs.
WALTER E. CARR and A. E. BURNETT, his Suc-
cessor, District Director, United States Immigration
Service, District No. 31,
Appellee.
SrattHmpt of Sentrtt
Upon Appeal from the United States District Conrt for the Southern
District of California, Central Division.
FILED
; MAY 7 - 1932
PAUL P. O'BRIEN,
CLERK
Parker, Stone & Baird Co., Law Printers, Los Angeles.
---
archive.org Volume Name: govuscourtsca9briefs1752
Volume: http://archive.org/stream/govuscourtsca9briefs1752
Document Link: http://archive.org/stream/govuscourtsca9briefs1752#page/n418/mode/1up
Top Keywords (auto-generated):
district, riichi, taguchi, california, corpus, habeas, southern, 1932, central, carr, los, angeles, 10654, walter, petitioner
Top Key Phrases (auto-generated):
riichi taguchi, habeas corpus, southern district, california central, los angeles, district director, angeles california, vandike 9595, indemnity corporation, greater city, city surety, smith deputy, price 609, california vandike, burnett district
Document Status: UGLY