v1782-357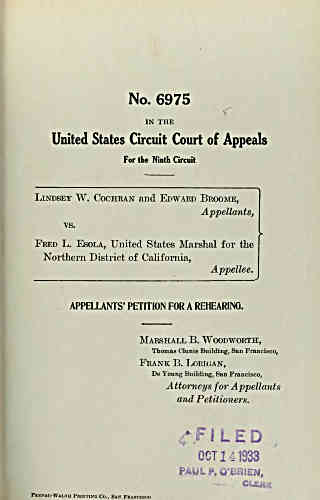 No. 6975
IN THE
United States Circuit Court of Appeals
For the Ninth Circuit
LiNDSEY W. CocHRAN" and Edward Broome,
Appellants,
vs.
Fred L. Esola, United States Marshal for the
Northern District of California,
Appellee.
APPELLANTS' PETITION FOR A REHEARING.
Marshall B. Wood worth,
Thomas Clunie Building, San Francisco,
Frank B. Lorigan,
De Young Building, San Francisco,
Attorneys for Appellants
and Petitioners.
4F1LED
OCT 1 A 1933
PAUL P, O'BRIEN.
CLERK
Peenau- Walsh Feinting Co., San rKANOisco
---
archive.org Volume Name: govuscourtsca9briefs1782
Volume: http://archive.org/stream/govuscourtsca9briefs1782
Document Link: http://archive.org/stream/govuscourtsca9briefs1782#page/n356/mode/1up
Top Keywords (auto-generated):
offense, committed, cochran, removal, broome, district, washington, york, indictment, rep, justice, northern, san, eastern, ed
Top Key Phrases (auto-generated):
washington northern, eastern district, san francisco, revised statutes, section 1014, executive authority, edward broome, constructive presence, 691 47, 2d 128, wood worth, section 5278, richards 225, respectfully submitted, pres ence
Document Status: UGLY