v1792-615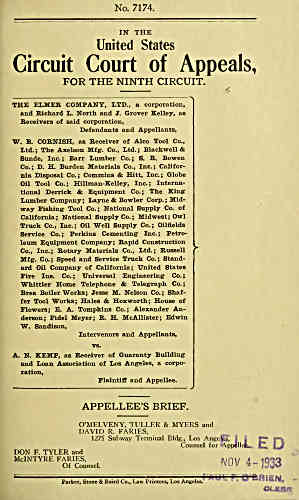 No. 7174.
IN THE
United States
Circuit Court of Appeals,
FOR THE NINTH CIRCUIT.
THE ELMER COMPANY, LTD., a corporation,
and Richard L. North and J. Grover Kelley, as
Receivers of said corporation,
Defendants and Appellants,
W. B. CORNISH, as Receiver of Alco Tool Co.,
Ltd.; The Axelson Mfg-. Co., Ltd.; Blackwell &
Sunde, Inc.; Barr Lumber Co.; S. R. Bowen
Co.; D. H. Burden Materials Co., Inc.; Califor-
nia Disposal Co.; Commins & Hitt, Inc.; Globe
Oil Tool Co.; Hillman-Kelley, Inc.; Interna-
tional Derrick & Equipment Co.; The King
Lumber Company; Layne & Bowler Corp. ; Mid-
way Fishing Tool Co.; National Supply Co. of
California; National Supply Co. ; Midwest; Owl
Truck Co., Inc.; Oil Well Supply Co.; Oilfields
Service Co.; Perkins Cementing Inc.; Petro-
leum Equipment Company; Rapid Construction
Co., Inc.; Rotary Materials Co., Ltd.; Russell
Mfg. Co.; Speed and Service Truck Co.; Stand-
ard Oil Company of California; United States
Fire Ins, Co. ; Universal Engineering Co. ;
Whittier Home Telephone & Telegraph Co.;
Brea Boiler Works ; Jesse M. Nelson Co.; Shaf-
fer Tool Works; Hales & Hoxworth; House of
Flowers; E. A. Tompkins Co.; Alexander An-
derson; Fidel Meyer; R. H. McAllister; Edwin
W. Sandison,
Intervenors and Appellants,
vs.
A. N. KEMP, as Receiver of Guaranty Building
and Loan Association of Los Angeles, a corpo-
ration,
Plaintiff and Appellee.
y
APPELLEE'S BRIEF.
Jill E D
O'MELVENY, TULLER & MYERS and
DAVID R. PARIES,
1275 Subway Terminal Bldg., Los Ange
Counsel for ^lppl
DON F. TYLER and
McINTYRE FARIES,_^^^^ IV0V4- 933
Parker, Stone & Baird Co., Law Printers, Los Angeles. ^^^ " ** fct1lfiN#
OUUUJC
---
archive.org Volume Name: govuscourtsca9briefs1792
Volume: http://archive.org/stream/govuscourtsca9briefs1792
Document Link: http://archive.org/stream/govuscourtsca9briefs1792#page/n614/mode/1up
Top Keywords (auto-generated):
trust, elmer, property, money, beesemyer, funds, bank, fund, cal, ltd, association, guaranty, right, loan, estate
Top Key Phrases (auto-generated):
guaranty building, loan association, trust funds, trust fund, national bank, los angeles, cestui que, que trust, trust property, personal property, capital stock, prop erty, productions inc., demille productions, checks issued
Document Status: UGLY