v1796-365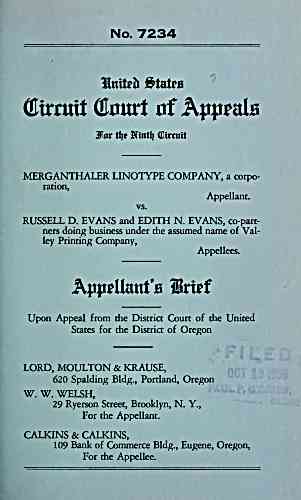 No. 7234
ffltrmtt Olourt nf Apprals
3rnr tlf 5?tnJl Oltrrutt
MERGANTHALER LINOTYPE COMPANY, a corpo-
ration,
Appellant,
vs.
RUSSELL D. EVANS and EDITH N. EVANS, co-part-
ners doing business under the assumed name of Val-
ley Printing Company,
Appellees.
Upon Appeal from the District Court of the United
States for the District of Oregon
LORD, MOULTON & KRAUSE,
620 Spalding Bldg., Portland, Oregon
WELSH,
29 Ryerson Street, Brooklyn, N. Y.,
For the Appellant.
CALKINS & CALKINS,
109 Bank of Commerce Bldg., Eugene, Oregon,
For the Appellee.
---
archive.org Volume Name: govuscourtsca9briefs1796
Volume: http://archive.org/stream/govuscourtsca9briefs1796
Document Link: http://archive.org/stream/govuscourtsca9briefs1796#page/n364/mode/1up
Top Keywords (auto-generated):
machine, evans, bowen, fire, type, linotype, setting, intertype, russell, mergenthaler, fraud, edith, damage, plant, contract
Top Key Phrases (auto-generated):
type setting, mergenthaler linotype, setting machine, ma chine, intertype machine, setting ma, print shop, linotype machine, intertype type, fire damaged, intertype machine., fraudulent representations, fiduciary relationship., fiduciary relationship, evi dence
Document Status: UGLY