v1808-219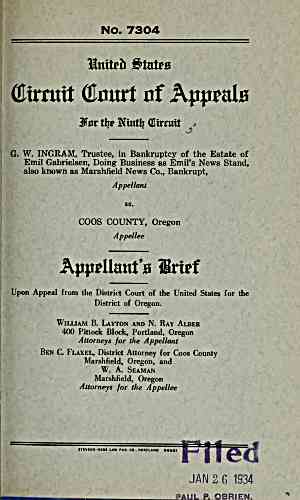 NO. 7304
(Hxrmxt Court of Appab
3F0r%Ntntaitrrtt .
INGRAM, Trustee, in Bankruptcy of the Estate of
Emil Gabrielsen, Doing Business as Emil's News Stand,
also known as Marshfield News Co., Bankrupt,
Appellant
COOS COUNTY, Oregon
Appellee
Appellant Umf
Upon Appeal from the District Court of the United States for the
District of Oregon.
William B. Layton and N. Ray Alber
400 Pittock Block, Portland, Oregon
Attorneys for the Appellant
Ben C. Flaxel, District Attorney for Coos County
Marshfield, Oregon, and
Seaman
Marshfield, Oregon
Attorneys for the Appellee
TEVEN3-NE3$ LAW PUB. CO.. PORTLAND 86291
Ftfrd
JAN 2 G 1934
PAUL P. QBRIEN.
---
archive.org Volume Name: govuscourtsca9briefs1808
Volume: http://archive.org/stream/govuscourtsca9briefs1808
Document Link: http://archive.org/stream/govuscourtsca9briefs1808#page/n218/mode/1up
Top Keywords (auto-generated):
taxes, bankruptcy, tax, liens, 64, lien, county, congress, trustee, oregon, ed, coos, priority, preferred, claims
Top Key Phrases (auto-generated):
coos county, tax liens, preferred labor, ingram trustee, county oregon, section 64, wage claims, tax lien, preferred wage, glover casket, bank ruptcy, personal property, labor claims., guaranty title, constitutional right
Document Status: UGLY