v1818-629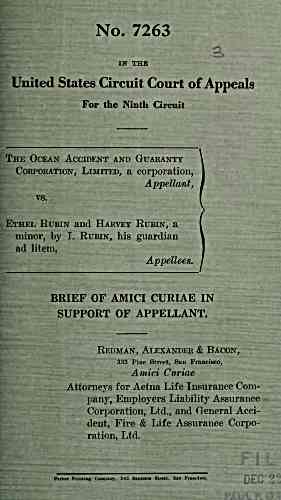 No. 7263
:5^
IN THE
United States Circuit Court of Appeals
For the Ninth Circuit
The Ocean Accident and Guaranty
Corporation, Limited, a corporation,
Appellcmt,
vs.
Ethel Rubin and Hartey Rubin, a
minor, by I. Rubin, his guardian
ad litem,
Appellees.
BRIEF OF AMICI CURIAE IN
SUPPORT OF APPELLANT.
Redman, Alexander & Bacon,
333 Pine Street, San Francisco,
Amid Curiae
Attorneys for Aetna Life Insurance Com-
pany, Employers Liability Assurance
Corporation, Ltd., and General Acci-
dent, Fire & Life Assurance Corpo-
ration, Ltd.
Parker Printing Company, 54 5 Sansome Street, San Francisco.
QEC
---
archive.org Volume Name: govuscourtsca9briefs1818
Volume: http://archive.org/stream/govuscourtsca9briefs1818
Document Link: http://archive.org/stream/govuscourtsca9briefs1818#page/n628/mode/1up
Top Keywords (auto-generated):
occupation, insured, policy, hazardous, classified, indemnity, insurer, duties, furniture, premium, provision, merchant, insurance, business, injured
Top Key Phrases (auto-generated):
furniture merchant, aetna life, premium paid, hotel keeper, occu pation, life ins., hazardous occupation, life insurance, central business, amici curiae, supervising duties, premium rates, office duties, occupation classified, national casualty
Document Status: UGLY