v1833-847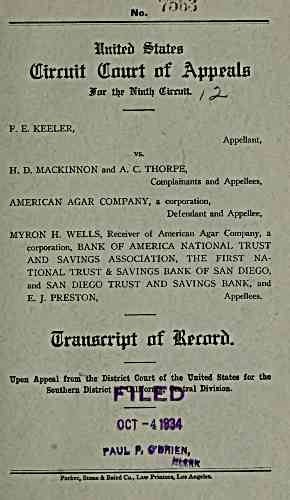 NO. VOO-J
Qltrrmt Olflurt of Kpmia
KEELER,
Appellant,
vs.
MACKINNON and A. C. THORPE,
Complainants and Appellees,
AMERICAN AGAR COMPANY, a corporation,
Defendant and Appellee,
MYRON H. WELLS, Receiver of American Agar Company, a
corporation, BANK OF AMERICA NATIONAL TRUST
AND SAVINGS ASSOCIATION, THE FIRST NA-
TIONAL TRUST & SAVINGS BANK OF SAN DIEGO,
and SAN DIEGO TRUST AND SAVINGS BANK, and
PRESTON, Appellees.
Ulraamil of Ewnrii.
TJpon Appeal from the District Court of the United States for the
Southern District palonp iBral Division.
QCT -41934
Parker, Stone & Baird Co., Law Printers, Los Angeles.
---
archive.org Volume Name: govuscourtsca9briefs1833
Volume: http://archive.org/stream/govuscourtsca9briefs1833
Document Link: http://archive.org/stream/govuscourtsca9briefs1833#page/n846/mode/1up
Top Keywords (auto-generated):
keeler, preston, trust, receiver, 1934, bank, property, san, diego, savings, district, national, hunter, california, july
Top Key Phrases (auto-generated):
san diego, savings bank, national trust, american agar, trust savings, personal property, southern district, diego trust, grant deed, los angeles, california central, thorpe complainants, savings association, july 1934, trust deed
Document Status: UGLY