v1843-165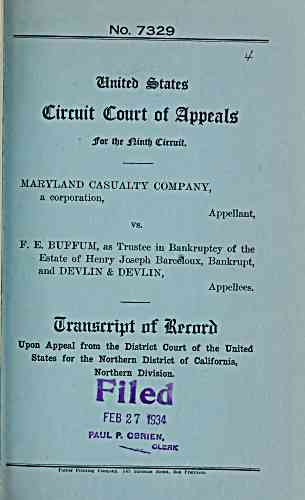 No. 7329
nitcb States
Circuit Court of Appeals:
Jfor tfie Mintf) itmit
MARYLAND CASUALTY COMPANY,
a corporation,
Appellant,
vs.
BUFFUM, as Trustee in Bankruptcy of the
Estate of Henry Joseph Barcdloux, Bankrupt,
and DEVLIN & DEVLIN,
Appellees.
SranBmpl of inath
Upon Appeal from the District Court of the United
States for the Northern District of California,
Northern Division.
riiea
FEB 2 7 fS34
PAUL P. cam EN,
Parter Ptintlna tompany, &4S ijansaiua Street, San Iranclsco.
---
archive.org Volume Name: govuscourtsca9briefs1843
Volume: http://archive.org/stream/govuscourtsca9briefs1843
Document Link: http://archive.org/stream/govuscourtsca9briefs1843#page/n164/mode/1up
Top Keywords (auto-generated):
trustee, devlin, freeman, barceloux, casualty, maryland, district, bankrupt, george, buffum, estate, petition, services, wulff, referee
Top Key Phrases (auto-generated):
maryland casualty, devlin devlin, peter barceloux, henry joseph, joseph barceloux, buff urn, services rendered, frank freeman, san francisco, northern district, richard belcher, freeman deceased, cora gelinas, john ralph, devlin george
Document Status: UGLY