v1856-63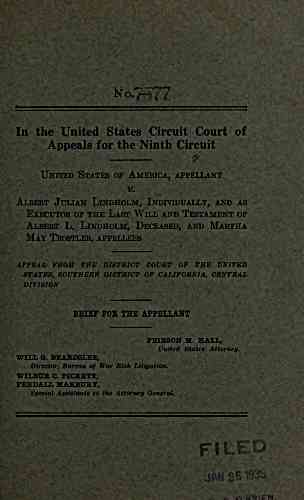 Ko.
In the United States Circuit Court of
Appeals for the Ninth Circuit
UisnTED States or America, appellant
Albert Julian Lindholm, Individually, and as
Executor of the Last Will and Testament of
Albert L. Lindholm, Deceased/ and Martha
May Trostler, appellees
APPEAL FROM THE DISTRICT COURT OF THE UNITED
STATES, SOUTHERN DISTRICT OF CALIFORNIA, CENTRAL
DIVISION
BEIEF FOR THE APPELLANT
PEIBSON M. HALL,
United States Attorney.
WILL G. BEABDSLEE,
Director, Bureau of Wa/r Risk Litigation.
WILBXTR C. PICKETT,
FENDALL MARBURY,
Special Assistaaits to the Attorney General.
---
archive.org Volume Name: govuscourtsca9briefs1856
Volume: http://archive.org/stream/govuscourtsca9briefs1856
Document Link: http://archive.org/stream/govuscourtsca9briefs1856#page/n62/mode/1up
Top Keywords (auto-generated):
section, war, district, insurance, courts, 2d, veterans, procedure, government, summary, risk, affidavit, title, provided, suits
Top Key Phrases (auto-generated):
war risk, world war, risk insurance, war veterans, veterans bureau, julian lindholm, albert julian, civil procedure, 32 ., southern district, practice pleadings, insurance policy, decided october, 46 stat., trict courts
Document Status: UGLY