v1865-175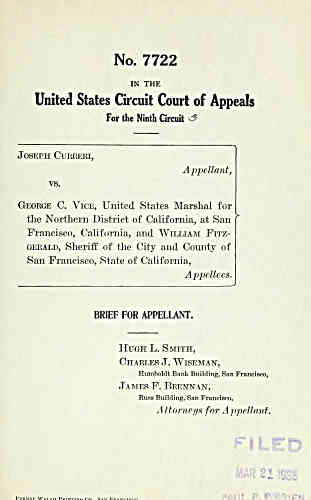 No. 7722
IN THE
United States Circuit Court of Appeals
For the Ninth Circuit i
Joseph Curreri,
Appellant,
YS.
George C. Vice, United States Marshal for
the Northern District of California, at San
Francisco, California, and William Fitz-
gerald, Sheriff of the City and County of
San Francisco, State of California,
Appellees,
BRIEF FOR APPELLANT.
Hugh L. Smith,
Charles J. Wiseman,
Humboldt Bank Building, San Francisco,
James F. Brennan,
Russ Building, San Francisco,
A ttorneys for Appellant,
sr
Vi/UJ ff e;v-.:;.
I'EHNArr Wai s ir Iunvr-rTvn in SI a isr IjIij a wf"Tcrr
---
archive.org Volume Name: govuscourtsca9briefs1865
Volume: http://archive.org/stream/govuscourtsca9briefs1865
Document Link: http://archive.org/stream/govuscourtsca9briefs1865#page/n174/mode/1up
Top Keywords (auto-generated):
accomplice, prima, facie, california, extradition, treaty, san, holding, crime, supreme, probable, francisco, committed, canada, stone
Top Key Phrases (auto-generated):
prima facie, san francisco, habeas corpus, penal code, public offense, parte oxley, demanding government, committing magistrate, suffi cient, standing alone, section 1111, extra dition, evi dence, criminal code, british consul
Document Status: UGLY