v1910-423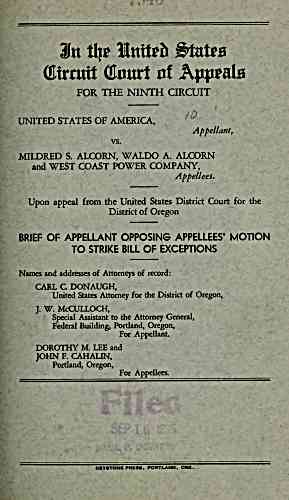 Oltrrmt (Hmtt of App? ala
FOR THE NINTH CIRCUIT
UNITED STATES OF AMERICA,
Appellant,
vs.
MILDRED S. ALCORN, WALDO A. ALCORN
and WEST COAST POWER COMPANY,
Appellees.
Upon appeal from the United States District Court for the
District of Oregon
BRIEF OF APPELLANT OPPOSING APPELLEES' MOTION
TO STRIKE BILL OF EXCEPTIONS
Names and addresses of Attorneys of record:
CARL C. DONAUGH,
United States Attorney for the District of Oregon,
Mcculloch,
special Assistant to the Attorney General,
Federal Building, Portland, Oregon,
For Appellant.
DOROTHY M. LEE and
JOHN F. CAHALIN,
Portland, Oregon,
For Appellees.
KEYSTONE PRESS . PORTUAND, ORE.
---
archive.org Volume Name: govuscourtsca9briefs1910
Volume: http://archive.org/stream/govuscourtsca9briefs1910
Document Link: http://archive.org/stream/govuscourtsca9briefs1910#page/n422/mode/1up
Top Keywords (auto-generated):
bill, exceptions, 1935, term, allowed, oregon, june, july, proposed, march, 1933, settled, presented, petitioner, orders
Top Key Phrases (auto-generated):
portland oregon, june 1935, proposed bill, march term, july 1935, strike bill, special assistant, peti tioner, mcculloch special, excep tions, usual certificate, proposed amendments, presented settled, march 27, lodged presented
Document Status: UGLY