v1910-619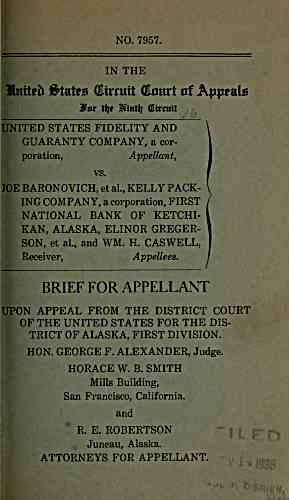 NO. 7957.
IN THE
Mnttri StatFB Qlirruit Olourt nf AppralB
Jfnr tljr Jointly ffiirrml
UNITED STATES FIDELITY AND
GUARANTY COMPANY, a cor-
poration, Appellant,
vs.
JOE BARONOVICH, et al., KELLY PACK-
ING COMPANY, a corporation, FIRST
NATIONAL BANK OF KETCHI-
KAN, ALASKA, ELINOR GREGER-
SON, et al., and WM. H. CASWELL,
Receiver, Appellees.
BRIEF FOR APPELLANT
UPON APPEAL FROM THE DISTRICT COURT
OF THE UNITED STATES FOR THE DIS-
TRICT OF ALASKA, FIRST DIVISION.
HON. GEORGE F. ALEXANDER, Judge.
HORACE W. B. SMITH
Mills Building,
San Francisco, California.
and
R. E. ROBERTSON
Juneau, Alaska.
ATTORNEYS FOR APPELLANT.
---
archive.org Volume Name: govuscourtsca9briefs1910
Volume: http://archive.org/stream/govuscourtsca9briefs1910
Document Link: http://archive.org/stream/govuscourtsca9briefs1910#page/n618/mode/1up
Top Keywords (auto-generated):
lien, taxes, salmon, tax, alaska, receiver, license, liens, territory, section, kelly, packing, claims, property, 1934
Top Key Phrases (auto-generated):
kelly packing, license taxes, tax claims, cannery workers, territorial tax, receiver caswell, compiled laws, tax lien, personal property, laws alaska, workers lien, session laws, lien claimants, alaska 1933, 61 .,
Document Status: UGLY