v1910-693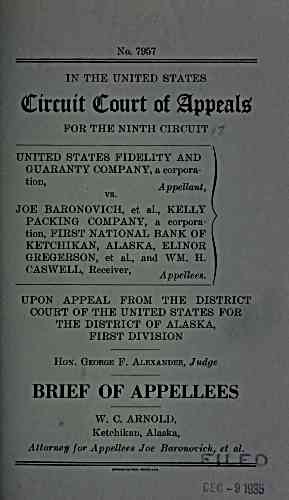 No. 7957
IN THE UNITED STATES
Circuit Court of Appeals;
FOR THE NINTH CIRCUIT
UNITED STATES FIDELITY AND
GUARANTY COMPANY, a corpora-
' Appellant,
vs.
JOE BARONOVICH, et al., KELLY
PACKING COMPANY, a corpora-
tion, FIRST NATIONAL BANK OF
KETCHIKAN, ALASKA, ELINOR
GREGERSON, et al., and WM. H.
CASWELL, Receiver, .
' ' Appellees.
UPON APPEAL FROM THE DISTRICT
COURT OF THE UNITED STATES FOR
THE DISTRICT OF ALASKA,
FIRST DIVISION
Hon. George F. Alexander, Judge
BRIEF OF APPELLEES
ARNOLD,
Ketchikan, Alaska,
Attorney for Appellees Joe Baronovich, et al.
==_ SJbLJ
HVTworourai) Mil
---
archive.org Volume Name: govuscourtsca9briefs1910
Volume: http://archive.org/stream/govuscourtsca9briefs1910
Document Link: http://archive.org/stream/govuscourtsca9briefs1910#page/n692/mode/1up
Top Keywords (auto-generated):
lien, property, tax, receiver, kelly, territory, packing, section, 1934, 1933, right, liens, license, alaska, statute
Top Key Phrases (auto-generated):
kelly packing, cannery workers, license tax, workers lien, tax lien, corpus juris, title 31, ketchikan alaska, territorial legislature, tax claims, specific lien, section 3146, joe baronovich, december 31, caswell receiver
Document Status: UGLY