v1914-1091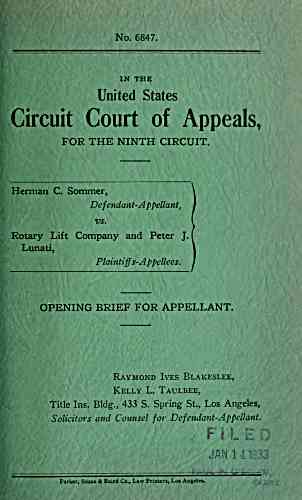 No. 6847.
IN THE
United States
Circuit Court of Appeals,
FOR THE NINTH CIRCUIT.
Herman C. Sommer,
Defendant- A ppellant,
vs.
Rotary Lift Company and Peter J.
Lunati,
Plaintiffs- A ppellees.
OPENING BRIEF FOR APPELLANT.
Raymond Ives Blakeslee,
Kelly L. Taulbee,
Title Ins. Bldg., 433 S. Spring St., Los Angeles,
Solicitors and Counsel for Defendant- Appellant.
F
Parker, Stoue & Baird Co., Law Printers, Los Angeles.
---
archive.org Volume Name: govuscourtsca9briefs1914
Volume: http://archive.org/stream/govuscourtsca9briefs1914
Document Link: http://archive.org/stream/govuscourtsca9briefs1914#page/n1090/mode/1up
Top Keywords (auto-generated):
patent, lunati, injunction, preliminary, invention, art, williams, piston, structure, device, claims, elevator, cylinder, infringement, 1931
Top Key Phrases (auto-generated):
preliminary injunction, lunati patent, preliminary injunction., lunati patent., special master, san francisco, preliminary injunc, supplemental interrogatories, fluid pressure, pre liminary, non infringement, liminary injunction, los angeles, prima facie, defend ant
Document Status: UGLY