v1920-965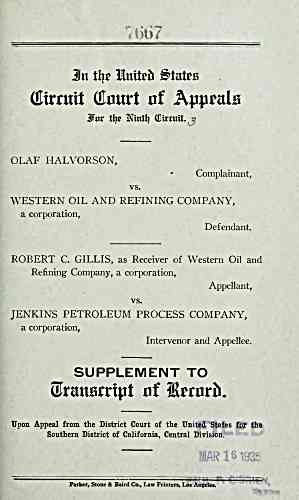 3n tl0 MnxUh Stats
Oltrrtttt (Enurt of Appeals
3For Jljp Ntnlli (EinruU. j
OLAF HALVORSON,
Complainant,
vs.
WESTERN OIL AND REFINING COMPANY,
a corporation.
Defendant.
ROBERT C. GILLIS, as Receiver of Western Oil and
Refining Company, a corporation.
Appellant,
vs.
JENKINS PETROLEUM PROCESS COMPANY,
a corporation,
Intervenor and Appellee.
SUPPLEMENT TO
ransrript of Srorb.
Upon Appeal from the District Court of the United States fi)r the
Southern District of California, Central Division.
MAR 16 193:
Parker, Stone & Baird Co., Law Printers, Los Angeles.
---
archive.org Volume Name: govuscourtsca9briefs1920
Volume: http://archive.org/stream/govuscourtsca9briefs1920
Document Link: http://archive.org/stream/govuscourtsca9briefs1920#page/n964/mode/1up
Top Keywords (auto-generated):
stipulation, district, western, oil, jenkins, 1934, receiver, process, petroleum, robert, february, april, southern, solicitors, royalties
Top Key Phrases (auto-generated):
western oil, jenkins petroleum, petroleum process, southern district, special master, schafer leonard, hughes ernest, frederick schafer, thompson frederick, stanley thompson, olaf halvorson, license agreements, jones solicitors, halvorson complainant, goudge robinson
Document Status: UGLY