v1931-549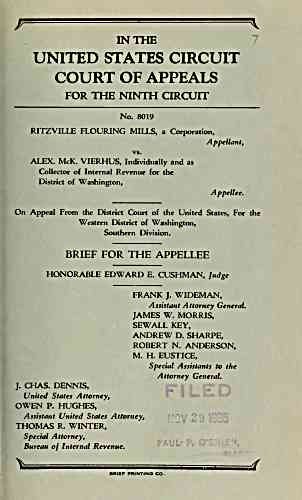 IN THE
UNITED STATES CIRCUIT
COURT OF APPEALS
FOR THE NINTH CIRCUIT
No. 8019
RITZVILLE FLOURING MILLS, a Corporation,
Appellant,
vs.
ALEX. McK. VIERHUS, Individually and as
Collector of Internal Revenue for the
District of Washington,
Appellee.
On Appeal From the District Court of the United States, For the
Western District of Washington,
Southern Division.
BRIEF FOR THE APPELLEE
HONORABLE EDWARD E. CUSHMAN, Judge
FRANK J. WIDEMAN,
Assistant Attorney General.
JAMES W. MORRIS,
SEWALL KEY,
ANDREW D. SHARPE,
ROBERT N. ANDERSON,
EUSTICE,
Special Assistants to the
Attorney General.
CHAS. DENNIS,
United States Attorney,
OWEN P. HUGHES,
Assistant United States Attorney,
THOMAS R. WINTER,
Special Attorney,
Bureau of Internal Revenue.
J
BRIEF PRINTING CO.
---
archive.org Volume Name: govuscourtsca9briefs1931
Volume: http://archive.org/stream/govuscourtsca9briefs1931
Document Link: http://archive.org/stream/govuscourtsca9briefs1931#page/n548/mode/1up
Top Keywords (auto-generated):
district, washington, collector, revenue, bill, internal, corporation, adjustment, 1935, taxes, agricultural, western, temporary, tax, special
Top Key Phrases (auto-generated):
agricultural adjustment, western district, internal revenue, washington southern, vierhus individually, standard packing, rogan collector, ritzville flouring, nat rogan, injunction temporary, flouring mills, winter special, wideman assistant, taxes imposed, statutes involved
Document Status: UGLY