v1940x-1069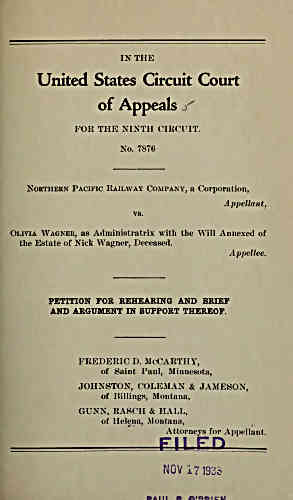 IN THE
United States Circuit Court
of Appeals
r
FOR THE NINTH CIRCUIT.
No, 7876
Northern Pacific Railway Company, a Corporation,
Appellant,
vs.
Olivia Wagner, as Administratrix with the Will Annexed of
the Estate of Nick Wagner, Deceased.
Appellee.
PETITION FOR REHEARING AND BRIEF
AND ARGUMENT IN SUPPORT THEREOF.
FREDERIC D. MCCARTHY,
of Saint Paul, Minnesota,
JOHNSTON, COLEMAN & JAMESON,
of Billings, Montana,
GUNN, RASCH & HALL,
of Helena, Montana,
Attorneys for Appellant.
Fll F-n
N0VI7193S
AIM m VOKtrHt
---
archive.org Volume Name: govuscourtsca9briefs1940x
Volume: http://archive.org/stream/govuscourtsca9briefs1940x
Document Link: http://archive.org/stream/govuscourtsca9briefs1940x#page/n1068/mode/1up
Top Keywords (auto-generated):
flood, water, bridge, creek, viaduct, unprecedented, guard, god, embankment, duty, 1929, negligence, damage, span, high
Top Key Phrases (auto-generated):
beaver creek, salton sea, approach spans, northern pacific, high water, central span, casey 290, railroad embankment, wibaux street, unprecedented flood., unprecedented flood, unprece dented, suf ficient, reasonably anticipated, pacific railway
Document Status: UGLY