v1940x-1125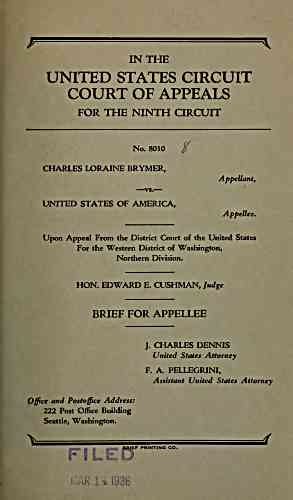 IN THE
UNITED STATES CIRCUIT
COURT OF APPEALS
FOR THE NINTH CIRCUIT
No. 8010 p
CHARLES LORAINE BRYMER,
vs.
UNITED STATES OF AMERICA,
Appellant,
Appellee.
Upon Appeal From the District Court of the United States
For the Western District of Washington,
Northern Division.
HON. EDWARD E. CUSHMAN, Judge
BRIEF FOR APPELLEE
CHARLES DENNIS
United States Attorney
PELLEGRINI,
Assistant United States Attorney
Office and Postoffice Address:
222 Post Office Building
Seattle, Washington.
BRIEF PRINTING CO.
---
archive.org Volume Name: govuscourtsca9briefs1940x
Volume: http://archive.org/stream/govuscourtsca9briefs1940x
Document Link: http://archive.org/stream/govuscourtsca9briefs1940x#page/n1124/mode/1up
Top Keywords (auto-generated):
2d, crime, 20th, 1907, february, immigration, district, convicted, charles, alien, turpitude, smith, rel, moral, manslaughter
Top Key Phrases (auto-generated):
20th 1907, moral turpitude, involving moral, february 20th, tayokichi yamada, october 20th, loraine brymer, charles loraine, western district, washington northern, voluntary manslaughter, subhi mustafa, smith 46, smith 289, rel volpe
Document Status: UGLY