v1944-757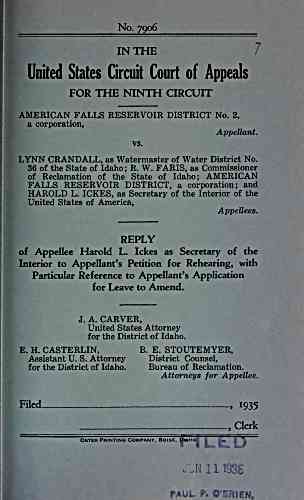 I
No. 7906
IN THE
7
United States Circuit Court of Appeals
FOR THE NINTH CIRCUIT
AMERICAN FALLS RESERVOIR DISTRICT No. 2,
a corporation,
Appellant.
vs.
LYNN CRANDALL, as Watermaster of Water District No.
36 of the State of Idaho ; R. W. PARIS, as Commissioner
of Reclamation of the State of Idaho; AMERICAN
FALLS RESERVOIR DISTRICT, a corporation; and
HAROLD L. ICKES, as Secretary of the Interior of the
United States of America,
Appellees.
REPLY
of Appellee Harold L. Ickes as Secretary of the
Interior to Appellant's Petition for Rehearing, with
Particular Reference to Appellant's Application
for Leave to Amend.
J. A. CARVER,
United States Attorney
for the District of Idaho.
E. H. CASTERLIN, B. E. STOUTEMYER,
Assistant U. S. Attorney District Counsel,
for the District of Idaho. Bureau of Reclamation.
Attorneys for Appellee.
Filed.
., Clerk
OsTER PRINTING Company, Boise, &iHO &i. 5 "^
IM 11 198g
fAUL P. O'SRIEN,
---
archive.org Volume Name: govuscourtsca9briefs1944
Volume: http://archive.org/stream/govuscourtsca9briefs1944
Document Link: http://archive.org/stream/govuscourtsca9briefs1944#page/n756/mode/1up
Top Keywords (auto-generated):
district, title, water, interior, secretary, amend, partition, falls, involved, property, idaho, harold, leave, ickes, american
Top Key Phrases (auto-generated):
american falls, falls reservoir, reservoir district, grounds urged, water district, water appropriations, twin falls, sole owner, property rights, northport irr., lynn crandall, joint tenant, idaho american, 43 usca, wyoming 295,
Document Status: UGLY