v1964-365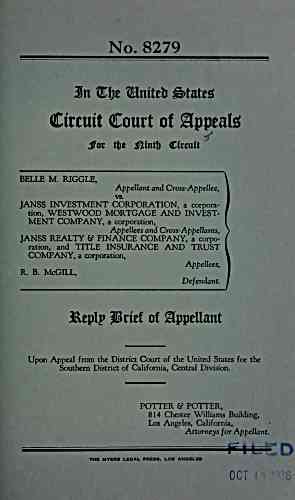 No. 8279
9n ^^t Winitth Stateg
Ctrcutt Court ot Appeals;
"J
jfot ttie iintl) Circuit
BELLE M. RIGGLE.
Appellant and Cross' Appellee,
vs.
JANSS INVESTMENT CORPORATION, a corpora-
tion, WESTWOOD MORTGAGE AND INVEST-
MENT COMPANY, a corporation,
Appellees and Cross- Appellants.
JANSS REALTY 6? FINANCE COMPANY, a corpo-
ration, and TITLE INSURANCE AND TRUST
COMPANY, a corporation.
Appellees.
McGILL.
Defendant.
Eeplp 5?rief of Appellant
upon Appeal from the District Court of the United States for the
Southern District of CaUfornia, Central Division.
POTTER 6? POTTER,
814 Chester Williams Building,
Los Angeles, California,
Attorneys for Appellant.
THE MYERS LEGAL PRESS, LOS ANGELES
oc
---
archive.org Volume Name: govuscourtsca9briefs1964
Volume: http://archive.org/stream/govuscourtsca9briefs1964
Document Link: http://archive.org/stream/govuscourtsca9briefs1964#page/n364/mode/1up
Top Keywords (auto-generated):
cal, findings, ci, contract, building, property, theory, rescission, rentals, premises, possession, paid, net, issue, trust
Top Key Phrases (auto-generated):
net rentals, special master, findings ci., rentals collected, purchase price, money paid, master ci., warren 101, pos session, la france, janss investment, folzer 84, elrod oas, defend ants, corpus juris
Document Status: UGLY