v1966-775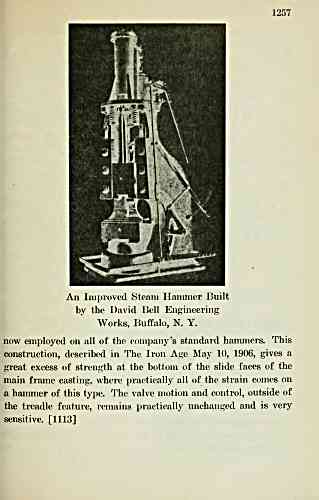 1257
An Improved Steam Hammer Built
by the David Bell Engineering-
Works, Buffalo, N. Y.
now employed on all of the company's standard hammers. This
construction, described in The Iron Age May 10, 1906, gives a
great excess of strength at the bottom of the slide faces of the
main frame casting, where practically all of the strain comes on
a hammer of this type. The valve motion and control, outside of
the treadle feature, remains practically unchanged and is very
sensitive. 1113
---
archive.org Volume Name: govuscourtsca9briefs1966
Volume: http://archive.org/stream/govuscourtsca9briefs1966
Document Link: http://archive.org/stream/govuscourtsca9briefs1966#page/n774/mode/1up
Top Keywords (auto-generated):
furnace, electric, iron, tons, fig, steel, electrode, rail, open, metallurgical, hearth, temperature, potential, metal, furnaces
Top Key Phrases (auto-generated):
electric furnace, open hearth, hearth furnace, pig iron, heroult electric, elastic limit, rail mills, measuring instruments, july 1907., electric steel, york july, sudden rise, steel works, negative temperature, metallurgical industry.
Document Status: UGLY