v1999-789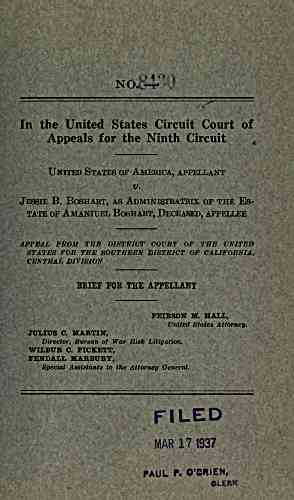 NO. --
In the United States Circuit Court of
Appeals for the Ninth Circuit ,
United States of America, appellant
Jessie B. Boshart, as Administratrix of the Es-
tate OF Amanitjel Boshart, Deceased, appellee
APPEAL FROM THE DISTRICT COURT OF THE UNITED
STATES FOR THE SOUTHERN DISTRICT OF CALIFORNIA,
CENTRAL DIVISION
BRIEF FOR THE APPELLANT
PEIRSON M. HALL,
United States Attorney.
JULIUS C. MARTIN,
Director, Bureau of War Risk Litigation.
WILBUR C. PICKETT,
FENDALL MARBURY,
Special Assistants to the Attorney General.
FILED
MAR 17 1937
PAUL r. O'SRIEN,
OLERK
---
archive.org Volume Name: govuscourtsca9briefs1999
Volume: http://archive.org/stream/govuscourtsca9briefs1999
Document Link: http://archive.org/stream/govuscourtsca9briefs1999#page/n788/mode/1up
Top Keywords (auto-generated):
insured, disability, insurance, policy, death, paid, permanent, premiums, benefits, installments, payable, beneficiary, monthly, estate, contract
Top Key Phrases (auto-generated):
permanent disability, premiums paid, disability benefits, monthly installments, personal representative, paid subsequent, world war, veterans administration, permanent disability., boshart deceased, amaniuel boshart, perma nent, optional settlement, insurance benefits, government life
Document Status: UGLY