v2000-117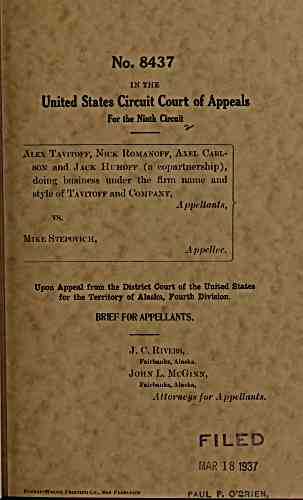 No. 8437
IN THE
United States Circuit Court of Appeals
For the Ninth Circuit
Alex Tavitoff, Nick Romanoff, Axel Carl-
son and Jack Huhoff (a copartnership),
doing business under the firm name and
style of Tavitoff and Company,
Appellants,
vs.
Mike Stepovtch,
Appellee.
Upon Appeal from the District Court of the United States
for the Territory of Alaska, Fourth Division.
BRIEF FOR APPELLANTS.
RiMiRS,
Fairbanks, Alaska,
John L. McGinn,
Fairbanks, Alaska,
Attorneys for Ajrpellants.
FILED
18 1937
I'l.K.VAD-WAI.SH IHINTINO CO., SAN FltANClSCO
PAUL P. 0'S?^IEN,
---
archive.org Volume Name: govuscourtsca9briefs2000
Volume: http://archive.org/stream/govuscourtsca9briefs2000
Document Link: http://archive.org/stream/govuscourtsca9briefs2000#page/n116/mode/1up
Top Keywords (auto-generated):
association, title, mining, possession, section, star, right, eastern, ditch, water, alaska, lease, location, tavitoff, 1936
Top Key Phrases (auto-generated):
eastern star, star association, tavitoff association, placer mining, association placer, mining ditch, voluntary nonsuit, fish creek, water right, slippery creek, section 3863, right limit, olga stepovich, absolute right, water right.,
Document Status: UGLY