v2011-143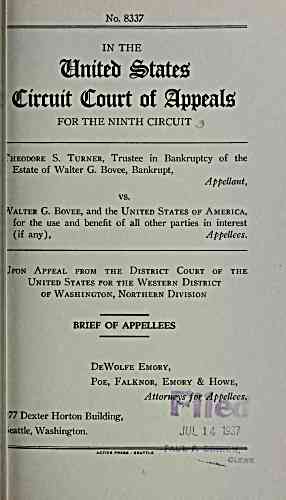 No. 8337
IN THE
Circuit Court of ^peate
FOR THE NINTH CIRCUIT -)
"heodore S. Turner, Trustee in Bankruptcy of the
Estate of Walter G. Bovee, Bankrupt,
Appellant,
vs.
Valter G. Bovee, and the United States of America,
for the use and benefit of all other parties in interest
(if any). Appellees.
JpoN Appeal from the District Court of the
United States for the Western District
of Washington, Northern Division
BRIEF OF APPELLEES
DeWolfe Emory,
Poe, Falknor, Emory & Howe,
Attorneys for Appellees.
' 77 Dexter Horton Building,
Seattle, Washington. JUL 14 IbS/
ACTIVE PRE SEATTLE
---
archive.org Volume Name: govuscourtsca9briefs2011
Volume: http://archive.org/stream/govuscourtsca9briefs2011
Document Link: http://archive.org/stream/govuscourtsca9briefs2011#page/n142/mode/1up
Top Keywords (auto-generated):
insurance, life, policy, exemption, statute, insured, 2d, endowment, beneficiary, policies, trustee, exempt, estate, benefit, right
Top Key Phrases (auto-generated):
life insurance, life insurance., endowment features, containing endowment, exemption statute, married woman, life ins., cash surrender, life policies, insurance policies, endowment policy, policy containing, exemption statute., 1909 enactment, statute exempting
Document Status: UGLY