v2017-589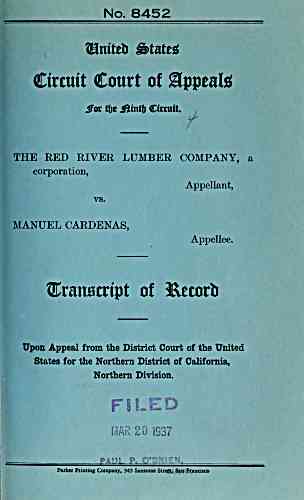 No. 8452
VAnittb States:
Circuit Court ot Appeals;
jFor tte Jintti Circtttt. ,
THE RED RIVER LUMBER COMPANY, a
corporation,
Appellant,
vs.
MANUEL CARDENAS,
Appellee.
tlTranatript of Eetorb
Upon Appeal from the District Court of the United
States for the Northern District of California,
Northern Division.
I
MAR 20 1937
PAIII P. O'GJgN.
Paiket Ptiating Company, 345 Sansome Stieft;, SasWuacisco
---
archive.org Volume Name: govuscourtsca9briefs2017
Volume: http://archive.org/stream/govuscourtsca9briefs2017
Document Link: http://archive.org/stream/govuscourtsca9briefs2017#page/n588/mode/1up
Top Keywords (auto-generated):
bohannon, westwood, cardenas, manuel, river, club, lumber, officer, david, night, window, arrest, card, room, saw
Top Key Phrases (auto-generated):
river lumber, manuel cardenas, david bohannon, westwood club, card room, peace officer, tear gas, westwood club., deputy constable, bed river, westwood township, card table, leonard freemyers, jim small, gas gun
Document Status: UGLY