v2064-861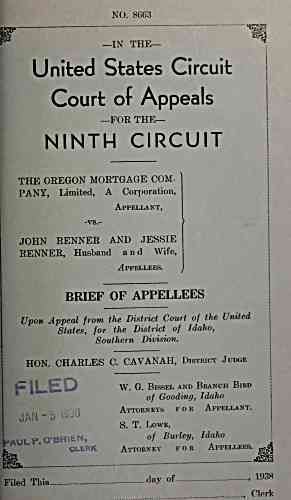 NO. 8663
IN THE
United States Circuit
Court of Appeals
FOR THE
NINTH CIRCUIT
THE OREGON MORTGAGE COM-
PANY, Limited, A Corporation,
Appellant,
-vs.-
JOHN RENNER AND JESSIE
RENNER, Husband and Wife,
ylpPELLEES.
BRIEF OF APPELLEES
Upon Appeal from the District Court of the United
States, for the District of Idaho,
Southern Division.
HON. CHARLES C. CAVANAH, District Judge
CrlL.0 W. G. BissEL AND Branch Bird
Attorneys for Appellant.
Lowe,
of Burley, Idaho
Attorney for Appellees.
CLERK
Filed This iay of.
., 1938
., Clerk
---
archive.org Volume Name: govuscourtsca9briefs2064
Volume: http://archive.org/stream/govuscourtsca9briefs2064
Document Link: http://archive.org/stream/govuscourtsca9briefs2064#page/n860/mode/1up
Top Keywords (auto-generated):
water, renner, san, diego, right, langlois, creek, land, ed, cal, ida, california, credit, bureau, inc
Top Key Phrases (auto-generated):
san diego, credit bureau, diego inc., water right, howell creek, nat rogan, internal revenue, marsh creek, southern district, vincent petrasich, rogan collector, treasury department, dort sheriff, 1880 water, 35 inches
Document Status: UGLY