v2066-221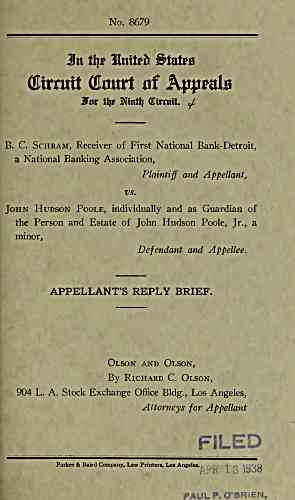 No. 8679
3n tly? Ittttf Jt ^tata
Qltrrmt (Banvt af AppmU
3F0r tl}^ NtnJtf Oltrrmt yi
ScHRAM, Receiver of First National Bank-Detroit,
a National Banking Association,
Plaintiff and Appellant,
John Hudson Poole, individually and as Guardian of
the Person and Estate of John Hudson Poole, Jr., a
minor,
Defendant and Appellee.
APPELLANT'S REPLY BRIEF,
Olson and Olson,
By Richard C. Olson,
904 L. A. Stock Exchange Office Bldg., Los Angeles,
Attorneys for Appellant
FiLED
Parker & Baird Company, Law Printers, Los Angeles.
^ 1938
fAUtP, O'BRIEN,
---
archive.org Volume Name: govuscourtsca9briefs2066
Volume: http://archive.org/stream/govuscourtsca9briefs2066
Document Link: http://archive.org/stream/govuscourtsca9briefs2066#page/n220/mode/1up
Top Keywords (auto-generated):
guardian, ward, liability, estate, statute, contract, stock, bank, national, ed, 2d, cal, infant, equity, statutory
Top Key Phrases (auto-generated):
national bank, statutory liability, john hudson, hudson poole, section 66, corpus juris, express contract, poole individually, national banking, bank stock, bank detroit, detroit bankers, banking association, statutory liability., sections 64
Document Status: UGLY