v2071-191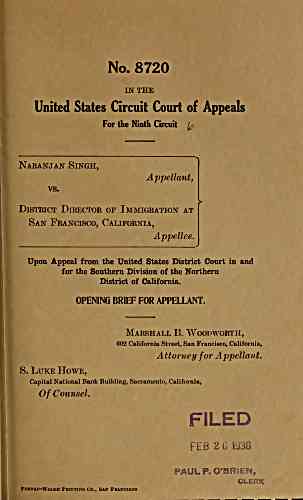 No. 8720
IN THE
United States Circuit Court of Appeals
For the Ninth Circuit ^
Naranjan Singh,
Appellant,
vs.
District Director of Immigration at
San Francisco, California,
Appellee.
Upon Appeal from the United States District Court in and
for the Southern Division of the Northern
District of California.
OPENING BRIEF FOR APPELLANT.
Marshall B. Wood worth,
602 California Street, San Francisco, California,
Attorney for Appellant.
Luke Howe,
Capital National Bank Building, Sacramiento, California,
Of Counsel.
FILED
FEB 2G 1938
PAUL P, O'BRIEN,
Pebnau-Walsh PiiiNTiNG Co., San Fbancisoo
---
archive.org Volume Name: govuscourtsca9briefs2071
Volume: http://archive.org/stream/govuscourtsca9briefs2071
Document Link: http://archive.org/stream/govuscourtsca9briefs2071#page/n190/mode/1up
Top Keywords (auto-generated):
singh, inspector, cross, affidavits, 2d, parte, mexican, examining, deportation, substantial, right, mexico, respondent, fair, 1913
Top Key Phrases (auto-generated):
examining inspector, mexican affidavits, indar singh, san francisco, sam goon, naranjan singh, mexican affiants, immigration officials, anyo maru, parte affidavits, owe sam, evi dence, seattle washington, goon 235, executive officer
Document Status: UGLY