v2094-391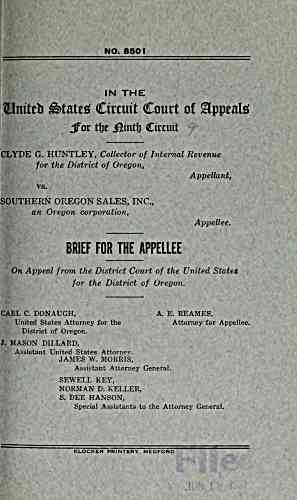 NO. 8501
IN THE
Winitti} States Circuit Court of Appeals
Jfor tfte ^intf) Circuit
CLYDE G. HUNTLEY, Collector of Internal Revenue
for the District of Oregon,
Appellant,
vs.
SOUTHERN OREGON SALES, INC.,
an Oregon corporation,
Appellee.
BRIEF FOR THE APPELLEE
On Appeal from the District Court of the United States
for the Distinct of Oregon.
CARL C. DONAUGH, A. E. REAMES,
United States Attorney for the Attorney for Appellee.
District of Oregon.
MASON DILLARD,
Assistant United States Attorney.
JAMES W. MORRIS,
Assistant Attorney General.
SEWELL KEY,
NORMAN D. KELLER,
DEE HANSON,
Special Assistants to the Attorney General.
KLOCKER PRINTERY. MEDFORD
---
archive.org Volume Name: govuscourtsca9briefs2094
Volume: http://archive.org/stream/govuscourtsca9briefs2094
Document Link: http://archive.org/stream/govuscourtsca9briefs2094#page/n390/mode/1up
Top Keywords (auto-generated):
tax, revenue, ed, section, appendix, commissioner, claims, taxpayer, refund, income, 1928, statute, taxes, 2d, 1926
Top Key Phrases (auto-generated):
internal revenue, oregon sales, southern oregon, sales inc., appendix appendix, strike bill, 26 usca, title 26, revenue tax, war profits, tax imposed, special findings, income tax, excess profits, income war
Document Status: UGLY